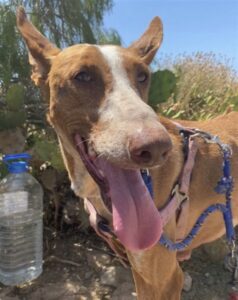 Volcán (6 years old) is a very shy canarian podenco. He is very scared of the people when he doesn't know him. After he sees you a couple of times, he comes out of his shell and goes with you asking for pets.
He is full of energy, so during the walks he likes to chase lizards. Nevertheless, he doesn't pull a lot and pays attention to you. He likes to run and play and is very friendly with other dogs. Volcán needs a very active family that takes him for long walks and, mostly, needs a family that helps him to be more confident.
---
Volcán (6 años) es un podenco canario muy tímido. Al principio tiene mucho miedo de las personas que no conoce, pero después de pasear con él un par de veces ya sale de su caparazón e incluso pide caricias.
Volcán tiene mucha energía y durante los paseos suele perseguir lagartos. Sin embargo, no suele tirar mucho y hace caso. Además, le gusta quemar toda esa energía corriendo y jugando con otros perros.
Volcán necesita una familiar que le lleve a dar paseos largos y, sobre todo, necesita una familia que le ayude a ganar confianza.