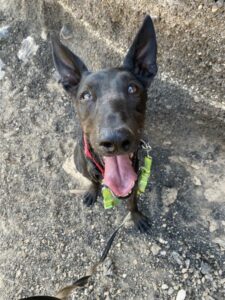 Jodie has 10 years old and came back to the refugee a few weeks ago (not because of her). She is not used to the environment in the shelter and she is constantly looking for human attention.
Jodie is very good at walking on the leash, doesn't pull and listens to you all the time. Although she has 10 years old, she still has energy and likes to walk a lot. Nevertheless, she has urinary problems, so she needs special food and syrup every morning.
Due to his age, we love for her to find a new home soon. She is a really nice and friendly dog.
---
Jodie es una perrita de 10 años que volvió al refugio hace poco (por motivos ajenos a ella). Le está costando acostumbrarse al ambiente de un refugio y está constantemente buscando que las personas le prestemos atención.
Jodie pasea muy bien con correa, no tira y hace caso cuando la llamas. Aunque tiene ya 10 años, aún tiene mucha energía y le gustar dar paseos largos. Sin embargo, Jodie tiene algunos problemas urinarios que se controlan fácilmente con un pienso especial y un jarabe cada mañana.
Debido a su edad, nos encantaría que encuentre un hogar lo antes posible. Jodie es una perrita súper buena y sociable.